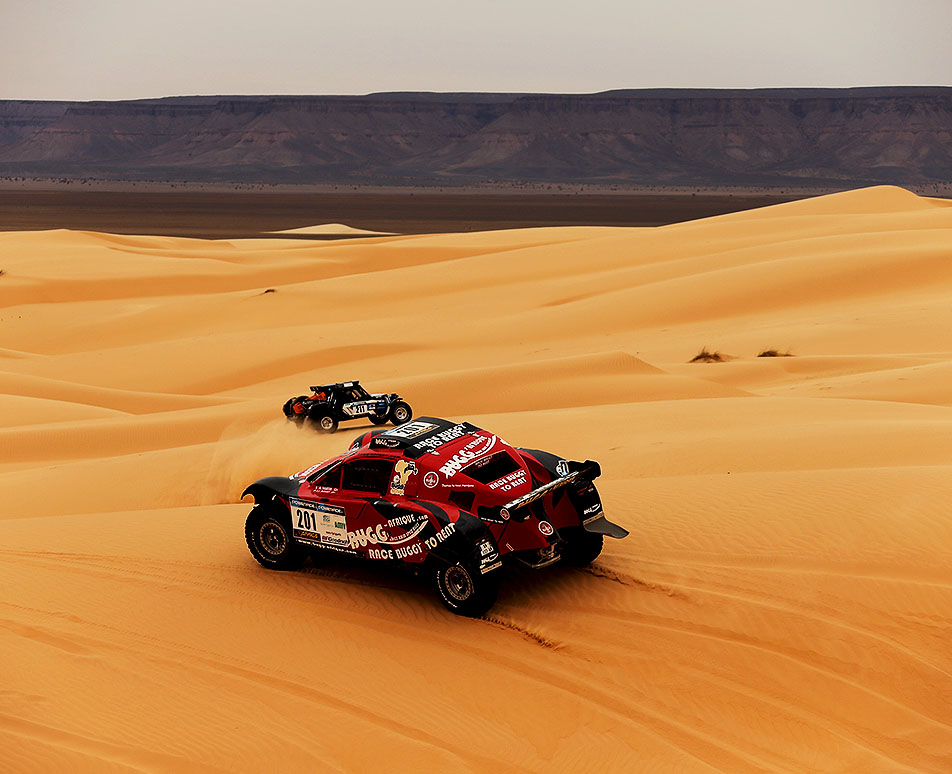 WITH BUGG'AFRIQUE,
MAKE YOUR DREAMS COME TRUE!
Much to the delight of all lovers of wide-open spaces and motorsports, we want to make rally raid more accessible! Whether on your own, teamed up with friends or on a team-building, you can rely on our outstanding racing cars, expertise, versatility and main concern, safety first that is, to make you live intense moments to remember!
SEE YOU IN MARRAKECH!
BUGGA'ONE
Technical Specifications
Chassis

- FIA-approved multitubular chomoly chassis

Engine

- Chevrolet 6.2l V8 with over 400HP (298kW) and 420 ft-lb (570Nm) of torque

Transmission

- Sequential 5-speed transmission

Suspension

- 4x Fox coilover shocks
- 4x Fox bypass shocks

Body

- Carbon aerodynamics
Interior

- FIA bucket seat with full FIA-approved 6-point safety harness

Fuel Capacity

- 450l (118 US gal lqd) FIA FT3 fuel tank, rear-mounted

Weight

- 1,400kg (3,087lb)

Measurements

- Length: 4,310 mm (170in)
- Width: 2,190 mm (86in)
- Height: 1,930 mm (76in)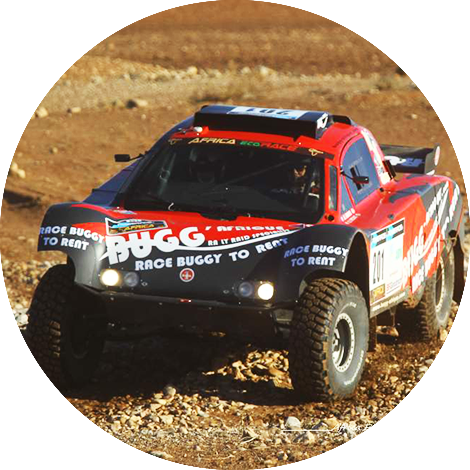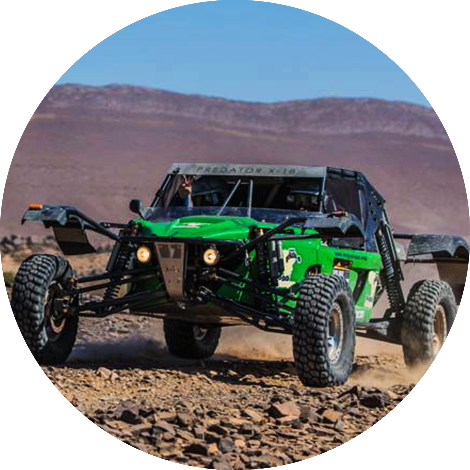 PREDATOR X-18S
Technical Specifications
Chassis

- SCORE-approved multitubular chomoly chassis

Engine

- GM Ecotec 2.2l with 170HP (125kW) and 155 ft-lbs (206Nm) of torque

Transmission

- Kevlar CVT & drive belt
- 6 to 1 differential

Suspension

- 4x Fox coilover shocks
- 4x bypass shocks
- Front travel: 510mm (20in)
- Rear travel: 460mm (18in)
Body

- Polyester fiberglass resin

Interior

- FIA bucket seat with full FIA-approved 6-point safety harness

Fuel Capacity

- 120l (31 US gal lqd) FIA FT3 fuel tank

Weight

- 1,000kg (2,205lb)

Measurements

- Length: 3,950mm (155in)
- Width: 2,200mm (86in)
- Height: 1,500mm (59in)